GUYSSSS HELLOO ! DAMM .. ITS BEEN TWO MONTH SINCE MY LAST UPDATE. IM NOW WAITING FOR MY DIPLOMA GRADUATION DAY AND IM NOW WORKING AS A PART-TIMER. HAHA . BUT, AS BUSY AS I AM STILL FOR NOW, ILL DO ANYTHING TO FILL UP MY HOBBIES, LIKE WATCHING ANIMES 👵 BACK TO THIS ANIME, I GOTTA SAY THAT THIS IS ONE OF MY MOST FAVOURITE ANIME. I DONT KNOW ABOUT YOU GUYS BUT IM SO HOOKED TO POCO'S CUTENESS. HE'S SO ADORABLE, AND I LOVE THE WAY SOUTA TOOK CARE OF HIM. LIKE FATHER, LIKE SON.
- A BIT ABOUT POCO'S UDON WORLD -
- BASED ON MANGA BY NODOKA SHINOMARU
- KNOWN AS
Udon no Kuni no Kin'iro Kemari
- EPS : 12
- GENRE : COMEDY, SLICE OF LIFE. FANTASY
- AIRING DATE : 9/10/2016 - 25/12/2016
- PRODUCED BY : LIDEN FILMS
- ITS MANGA HAS 7 VOLUMES
- MY OPINION -
FIRST THING FIRST, I REALLY LOVE POCO . LIKE SERIOUSLY, HE'S SO DAMN ADORABLE. THE WAY HE SPEAKS, THE WAY HE WALKS, THE WAY HE REMEMBERS PEOPLE, AND THE WAY HE SHOW HIS LOVE TO SOUTA.. ITS ALL SO LOVELY, I SHED MY TEARS FOR THAT. AND FROM THIS ANIME, IM NOW HOOKED TO UDON. HAHAHHA. OK, ABOUT SOUTA, I WISH HE'LL BE MY HUSBAND. HE'S VERY GOOD IN TAKING CARE OF POCO, AND I CAN SEE THAT HE REALLY DO LOVE POCO. I FIRST GUESS THAT THIS ANIME MUST HAVE A LITTLE BIT OF GAY FEELINGS , BUT NAHH , IM SO DAMN WRONG. FORGIVE ME .. HUHU .. DONT MIND THAT. OVERALL, I WATCHED THIS ONE MANY TIMES. AND IM NOT GONNA STOP DOING THAT. ITS CAUSE THIS ANIME WAS REALLY GOOD. I LOVE IT.
- SHORT SUMMARY -
A 30 YEARS OLD SOUTA CAME BACK TO KAGAWA TO CLEAN UP HIS PARENT'S HOUSE AFTER HIS PARENT'S DEATH. HIS FATHER RUNS AN UDON RESTAURANT, BUT HE'S NOT INHERITATED IT. HE MET POCO THAT WAS HIDING THERE. HE THEN TAKES CARE OF POCO UNTIL HE CANT SEPERATE WITH HIM. BUT, POCO'S ACTUAL FORM IS WAY BEYOND HIS IMAGINARY. CAN HE LOOK AFTER POCO EVENTHOUGH HE KNEW ITS IMPOSSIBLE?
- CHARACTERS -
- TAWARA SOUTA :
A WEB DESIGNER THAT LIVES IN TOKYO. HE THEN CAME BACK TO KAGAWA TO LOOK AFTER HIS PARENT'S HOUSE AND UDON RESTAURANT THAT WAS BEING OUT IN BUSINESS. HE MET POCO THERE AND HE TOOK CARE OF HIM. HE ALWAYS WORRIED THAT POCO MIGHT LEAVE ONE DAY, AND HE REGRETS THAT HE LEAVED HIS FATHER CAUSE OF HIS SELFISHNESS.
- POCO :
A CHILD THAT SOUTA MET. HE'S ACTUALLY A TANUKI. SOUTA ADOPTED HIM LIKE HIS OWN SON. POCO SHOWED TO SOUTA THAT HE WAS BEING SAVED MY HIM ONCE WHEN SOUTA IN HIGH SCHOOL. THE MORE HE WAS WITH SOUTA, THE MORE THINGS AND FEELINGS THAT HE LEARNT.
- NAKAJIMA SHINOBU :
SOUTA'S BEST FRIEND. HE'S SOUTA'S CHILDHOOD FRIENDS AND UNTIL NOW, THEY STILL IN GOOD TERMS. HE'S AN ORTHOPEDIC DOCTOR. HE WANTED TO BE THAT CAUSE OF SOUTA. HE HAD A CRUSH FOR RINKO.
- OISHI RINKO :
SOUTA'S OLDER SISTER AND MARRIED. SHE DIDNT GET ALONG WELL WITH CHILDREN BUT AFTER MEETING POCO, HER WAY OF THINKING HAS CHANGED. SHE REGRET THAT SHE CANT GIVE A GRANDCHILDREN TO HIS FATHER, CAUSE IT WAS HER OWN DECISION. BUT IN THE END, SHE'S GOING TO BE A MOTHER. SHE ALSO CARE A LOT TO SOUTA.
- MAI MANABE :
SOUTA'S CRUSH SINCE HIS HIGH SCHOOL DAYS, BUT NOW SHE'S MARRIED. SHE BECAME SOUTA'S MOTHER-FRIEND . SHE ALWAYS THERE TO HELP SOUTA TAKING CARE OF POCO. SHE HAS TWO CHILDREN, NOZOMI AND EITAROU. NOZOMI SEEMS TO BE FOND TO POCO.
- NAGATSUMA HIROSHI :
SOUTA'S WORK BUDDY IN HIS COMPANY. HE'S THE FIRST PERSON THAT SAW POCO'S REAL FORM. HE FIRST ANGRY THAT POCO IS THE REASON THAT SOUTA WANTED TO EXCEED HIS HOLIDAY, BUT THEN HE REALISED THAT POCO IS PRECIOUS TO SOUTA. HE THEN GETTING FOND TO POCO. HE HAD A HUGE CRUSH TO RINKO.
- THE OTHER ROLE ARE HAMADA, NAKAJIMA PARENTS, MANABU, YUKIE, SHUNSUKE, SAE, GAO-GAO CHAN, AND OTHERS.
- DOWNLOAD LINK -
-
CLICK HERE !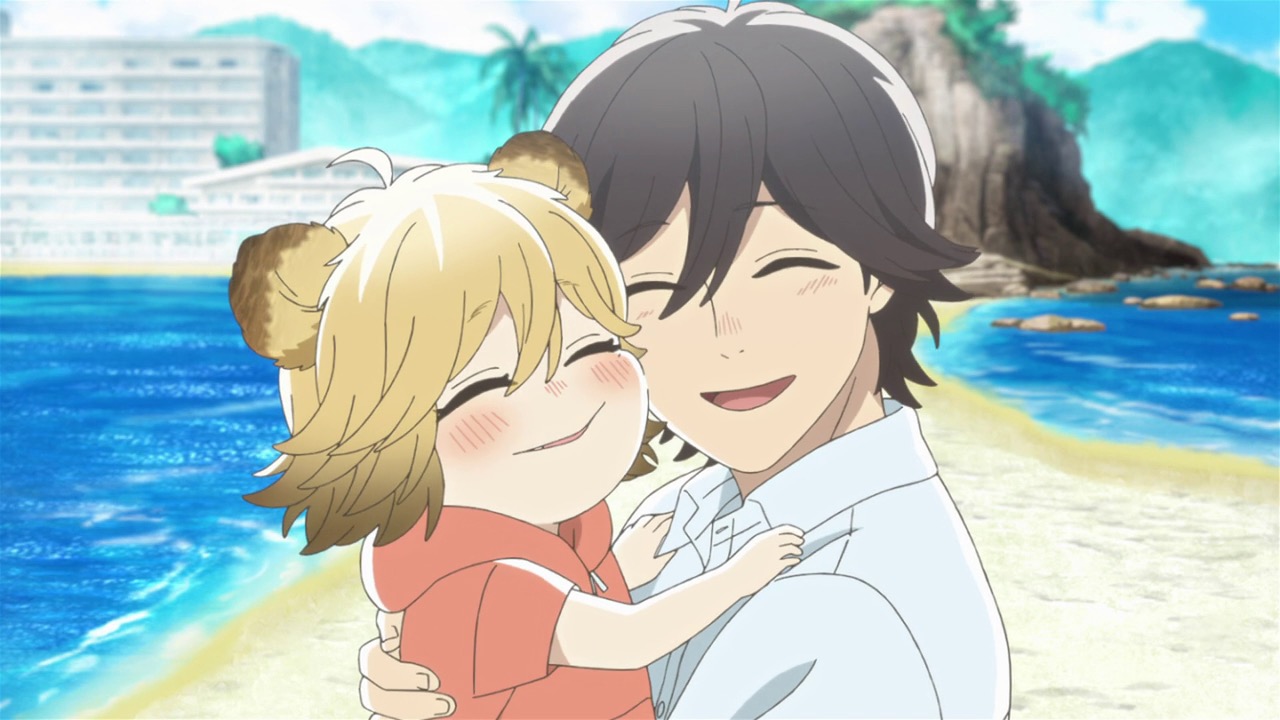 OK GUYS. SO, IF YOU LIKE ANIME THAT RELATED TO SLICE OF LIFE AND CHILDREN IN IT, DEFINITELY HAVE TO WATCH THIS. ITS SO GOOD, AND I BELIEVE ITS WORTH YOUR TIME. THIS IS JUST LIKE USAGI DROP AND BARAKAMON. ITS AS GOOD AS THEM. YOU'LL LOVE ALL OF THEM, THEIR SCENERY, THEIR STORYLINES, THEIR CHARACTERS, EVEN THEIR INTERACTION. IM SURE YOU'LL LOVE IT JUST AS ME AND THE OTHERS . HEHE .

WELL, THANK YOU FOR READING !!!